London Collections: Men
As one of the earliest fashion events of the year, London Collections: Men is also a pretty central kick off of every season for the stylish gent. Battling for attention among the men's weeks in fashionable capitals around the globe, London certainly is the starting point for anyone in love with traditional tailoring.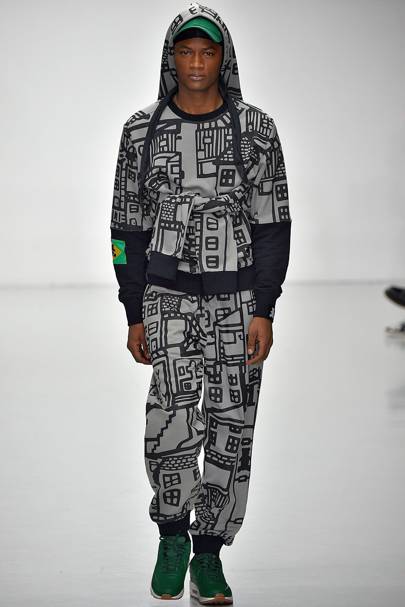 Or some to-die-for urban trends. How cool is this print from Bobby Abley?!?
For those of us down the southern end of the planet LCM is also a great insight into what lies in store for the year ahead. We have the unique ability to implement trends either sooner (we don't have to wait for September like the North), or bring them back as retro next year (when these styles 'officially' start retailing here). And with our current economic situation causing no small deal of stress, it's good to know we can either get early bird specials, or late purchase bargains for our hard earned cash.
In the somewhat nerve-racking times ahead, it'll be good to keep the mantra of that fashion stalwart Vivienne Westwood in mind:
Consume Less, Choose Wisely, Make it Last
Trend #1: Diversity
From ethnicity to discernible gender, colours and constructions, it's wonderful to see men's fashion fully out of the closet and stomping all over the catwalk in a true reflection of the diversity of humanity.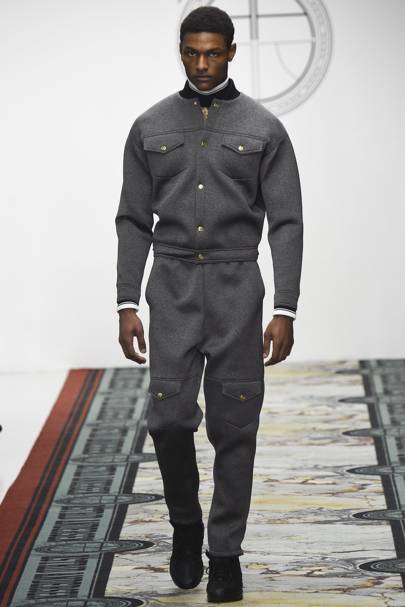 Ugh Astrid Anderson, are we really trying to make onesies a thing? Really?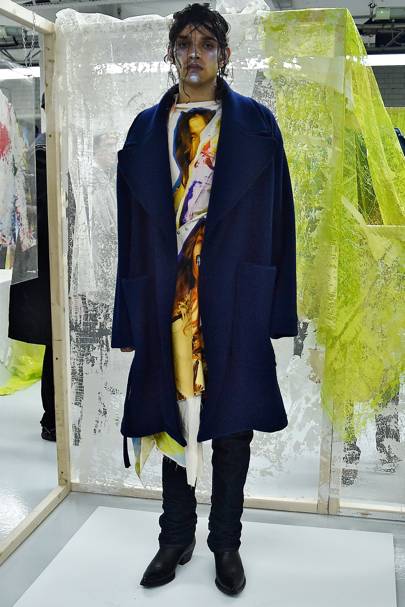 Allex Mullens hides a wonderful shock of colour in the layers covering this gorgeous model.
It's encouraging to know that fashion, due to its dependency on the consumer, is actively embracing an inclusive image.
Trend #2: Earth Tones
Somewhat of a surprise, given the blatant diversity trend, is that our dominant colour this season is so muted. Prepare yourself for deep oranges, browns and yellows coming your way for the season ahead.
Though be sure that muted need not mean boring, as evidenced by this gloriously rugged cardigan by (would everyone please stand) J W Anderson.
I'd wager this trend will last a season or two, with everyone taking a decent amount of time to revel in the simplicity of neutral tones, and focus on excellent tailoring rather than flashy colours to give the garment its appeal.
Trend #4: Draping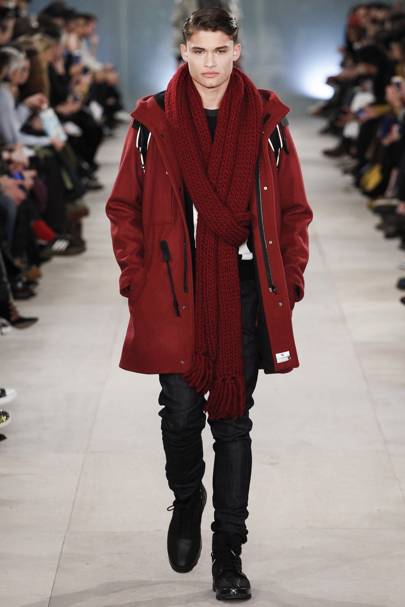 And layering of all denominations, as superbly carried out with this heart warming colour by Christopher Raeburn
The trend is definitely to show your taste by your ability to match multiple items of clothing into a coherent ensemble. Don't freak out, we've still got half a year to figure this one out before winter.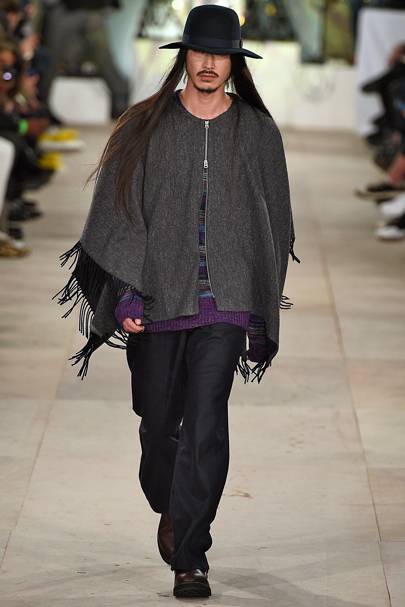 An excellent example of simplicity in design by YMC
Trend #5: Suits
Bless this staple of men's fashion, and bless third wave feminism for encouraging men to reaffirm some deeply loved gender norms for the sake of our own sanity. And bless 2016 for allowing us the creativity of tailoring fine details in this otherwise stock standard outfit.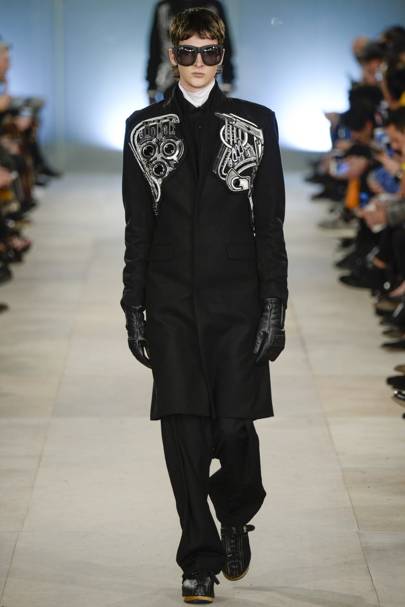 An interesting combination of contrasting trouser and jacket silhoettes by KTZ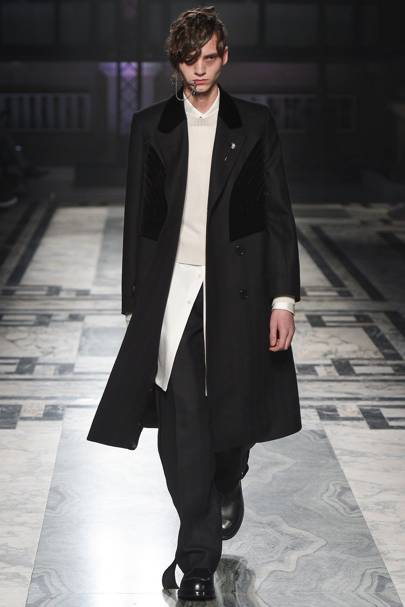 Wonderful interpretation of the health goth trend with block paneling by Alexander McQueen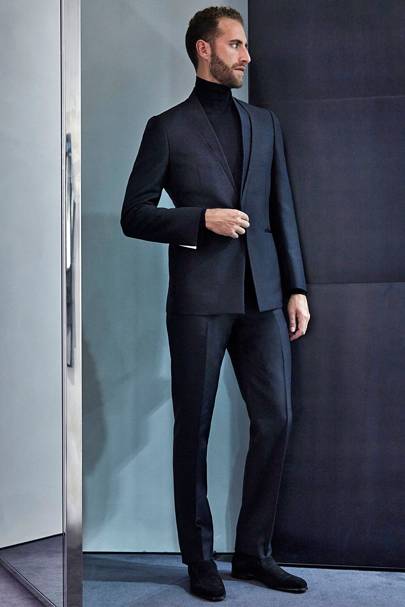 Intriguing and innovative lapel detail by Kilguor. There's nothing more stylish than simple elegance
Trend # Do Whatever the Fuck You Want
If you're looking to jump on some of these trends right this very second, this Long Sleeve Grandad Tee
from Scotch & Soda is 80% cotton and a good bargain.
The colour palette is spot on, and with the weather cooling a bit (much sadness) you'll be able to move gracefully into a more winter wardrobe. Although a bit basic, the black facing makes it a designer item, without being too garish. The cut is also very simple, which is definitely the silhouette at the moment.
You can check out more and buy it by clicking here
.
Though remember that fashion is an opportunity to communicate with those around you. And we are now more than ever able to communicate directly with designers about what we want and why. With ever more brands, and ever easier access to garments from all over the world, we are increasingly empowered to be the setters of our own trends.
Hit me up in the comments about your favorite trend for this season, and together we'll demand more of it from the super brands!!
---
Image credits:
http://www.viviennewestwood.com/
http://www.londoncollections.co.uk/
---
Disclaimer: Yes, I earn a small commission from some of the merchandise from third parties